7″ Wireless Quad Receives up to 4 Wireless Camera Images, Includes 1 Wireless Minibox Camera-Channel F
Wireless 7″ Monitor (710345)
Wireless Minibox Camera- Channel F (710364)
Additional Cameras must be ordered separately
7″ Wireless Camera- Input LCD 2.9MM- Channel F (710364)
7″ Wireless Camera- Input LCD 2.9MM- Channel B (710365)
7″ Wireless Camera- Input LCD 2.9MM- Channel R (710366)
7″ Wireless Camera- Input LCD 2.9MM- Channel L (710367)

866.424.0575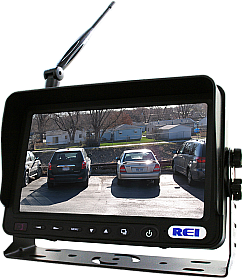 710401
Wiresless Camera Observation System 7″ Monitor- Single Camera View
7″ Wireless LCD, Single Camera Input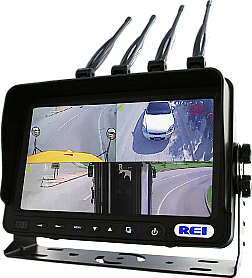 710345
Wireless Camera Observation System 7″ Monitor-Multiple Camera View
7″ Wireless LCD w/4 Camera Inputs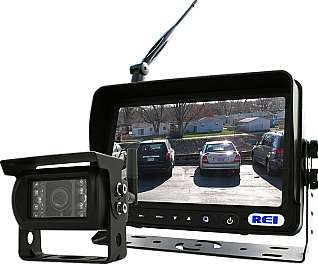 760922
Wireless Camera Observation System-Single Camera View Kit
Wireless Camera Observation System 7″ Wired LCD Receives 1 Wireless Camera Image, Includes Wireless Minibox Camera- Channel F
Wiresless 7″ Monitor (710401)
Wireless Minibox Camera-Channel F (710364)

760927
Wireless Camera Observation System-Monitor Allows for Single/Dual/Triple/Quad View Kit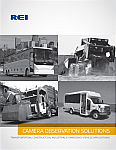 The WVOS43 now allows drivers to view more with less using its wide angle views in a compact 4.3 inch display that can be stowed easily in the center console or glove compartment when not in use. It offers WiSight® auto-pairing of up to four wireless cameras so the drivers can see their rearview and blind spot areas of the vehicle at any time, even while on the road. The included camera features a CMOS lens, built in microphone, and excellent low-light performance. The system also transmits signals through and around objects up to 60 feet away. This system offers manufacturers the opportunity to provide a truly mobile wireless observation system that is easy to use, handle and store.
WVOM43 MONITOR
• Bright 4.3" display
• Compact size allows for easy storage in armrest, glovebox or center console when not in use
• Can display visual points of reference indicating your vehicle's distance from objects while backing up
• Built-in speaker
• Suction cup mount and 12V DC plug included

WVCMS130AP CAMERA
• CMOS sensor
• 14 IR LEDs for low-light illumination
• Powered through rear light wiring or any other available 12V DC power source


5.6" TFT LCD Digital Wireless Monitor. Monitor has long distance transmitting and receiving capability with our proprietary WiSight technology and Auto-Pairing connectivity. Monitor will digitally link or "pair" with any voyager WiSight camera.
• WiSight® technology featuring Auto-Pair connectivity
• Long distance transmit/receiving capability
• Monitor will digitially link or "pair" with WiSight camera
• 5.6" color TFT LCD panel
• LED backlight
• Integrated audio speaker
• Excellent low light and high bright environment performance
WVOM43 COMBO
Voyager 4.3" Wireless Observation Monitor
WVOM541AP
Voyager 5.6" Digital Wireless Monitor


WVCMS130AP
Voyager Digital Wireless Camera

Part numbers found on this page: WVOM541AP, WVCMS130AP, WVOM43, 760927, 710364, 710365,710366,710367, 710345, 710401